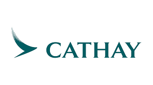 Cathay Pacific, one of Skytrax's world's top 10 airlines, is a premium airline based in Hong Kong. The airline operates an extensive network of over 80 destinations worldwide. Cathay Pacific has won numerous awards for its outstanding service, onboard experience, and commitment to sustainability, making it one of the world's most respected and trusted airlines.
In line with this vision, together we have launched tailor-made insurance solutions in 12 markets allowing us to offer passengers peace of mind and to make their journey even more enjoyable and hassle-free. and we are working on expanding & improving offerings further. We share the same vision to improve continuously including new products and new markets expansion.
Chubb & Cathay Pacific have also introduced an innovative campaign to offer Cathay members an opportunity to accumulate Miles every time they purchase an insurance policy. We continue to explore future initiatives to enhance customer experience by providing value-added services conveniently to members within the Cathay ecosystem.
Product:
Chubb Premier Travel Cover (Single Trip and Annual Multi Trip Cover)
Solution:
Integrated in-path**
Standalone website
**Travel partners like Airlines are not using Chubb Studio tech but run on native CRS APIs, which are tailored by Chubb for the travel industry